About a year ago I was elbow deep into choosing what moving company would be tasked to move all our worldly possessions less one Ford Ranger load… Considering services and booking mover estimates, there was simply no time for woodworking. I was far too busy deciding what I would pack and what I would pay the movers to pack because many movers will only ensure items that they packed. Well wouldn't you know it, every single thing the movers packed got damaged in some way, meanwhile the fine china, crystal vases and ALL THE OTHER STUFF I packed, not a single thing got damaged.
Well…
Except for one thing that neither of us thought to pack.
The movers broke my woodworking mojo.
But now that I think of it, about the only woodworking related stuff I trusted to the movers was my miter and table saw. Being as both are power tools, they only just barely qualify as woodworking tools, so it may not be fair to blame the movers.
Could my mojo have been in one of my other tools? The most important tool in a hand tool shop is easily the workbench and I did sell mine rather than move it. I sold it to a friend or so I thought… Could this "so-called friend" have stolen my mojo?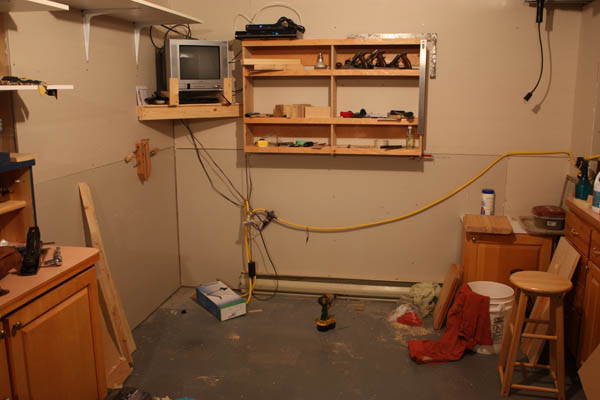 Well two can play at that game! I'll just call upon my followers, my great and evil fairwoodworking army to troll and belittle him at @holleywoodshop until he gives it back.
Come my children.  Feed on his entrails! Ha ha ha!
No?
Perhaps just my mom…
Well first I'd have to teach her the difference between twitter and wifi, and really it would be pretty sad if I needed my bench or any tool to keep my hobby alive.
I guess I can only blame myself. Or at least I can say that I let myself fall into this slump, and over the past days I've gone on a mental walkabout in search of the telltale hazards that brought me to this place.
Life has changed for me in the past year and a half, and while it took a turn I neither desired nor expected, I have really nothing worth complaining about.
It's a really great first world problem to have to move to one of the most prosperous cities in the country for work. Ya. I know.  Poor me!
Not really, but I thought it may be beneficial to discuss some of the mojo killers that can happen once moving day has been set.
For starters.
1. Unchecked expectations of your new shop, especially if you don't yet know what your next shop will look like. Somehow I envisioned a larger shop with two larger benches and plenty of room to possibly teach a student or two. I started making plans and even went so far as to drive four hours out of my way during my cross-country move to pick the brain of one of my more respected teachers. Having come from a basement shop about the size of a one car garage, moving into a shop about half that size was a bit of a jolt at 144 square feet if you include the closet. It's livable for one person, but two people would be a real struggle.
2. Nostalgia. When I set up my last shop, I was just barely a woodworker. I had just enough hand tool experience to know how I wanted to layout the shop, but had never really built anything. It was in this shop I cut my first dovetails, M&T joint, learned how to resaw by hand, mastered free hand sharpening, set up my first proper workbench, and on and on and on. More importantly, it's where I first took my newly acquired bag of skills, and pieced them together to build something real.
Without that shop this blog would not exist.
3. Losing your old work flow. My old shop flow grew organically as my skills grew. Where I put my tools, and how I worked was all a developed process that fell into a routine. I'm a routine guy, and the attempt to hit the ground running left me with some road rash on my chin. Shop jigs, cabinets, heck! Even my workbench was left behind, so before I could take on any fun  projects, I had to build up a new shop without a functional shop to work in. Boo Hoo for me, but we sometimes forget about that part.
4. Changes in your professional life. Errr, What? Who would have thought that my job would affect my hobbies? Ok, maybe that's a no brainer, but I missed it. When your job is high stress and very low activity, you come home in a "MUST SMASH" mood, and the physicality of hand tools is a very good match. Now with a very low stress, but high activity job, I come home in a "must crash" kind of mood.
I'm sure there are some other things, but these are the big ones. It's funny how easily these things can mess you up, especially as they really are pretty minor. Sure my new shop is small, but I still know people that woodwork in their kitchen or living room. Yes I had to give up my old bench, but I know a guy that has dog holes in his coffee table. Yes my work flow is messed, but I don't have to pack up my shop every night so my wife can fit her car in the garage. I may not need anymore stress relief, or the opportunity to break a sweat with a panel saw in my hand, but woodworking is still fun, so why shouldn't I enjoy it.
It's easy to blame.
To blame those pesky movers for breaking my woodworking mojo, but it never really was broken.
If I chose not to adapt my woodworking to fit my new situation, I may not have had much mojo to begin with.
All I know is that rolling thickness planer cabinet is not going to build itself.