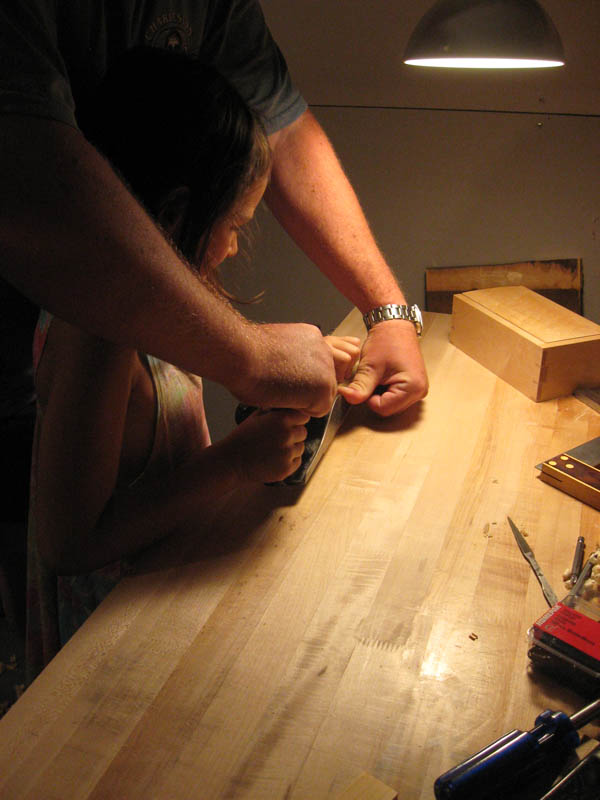 Just in case any of you weren't paying attention, recently 17 #babyanarchists probably learned more in 5 days than I did in my first 5 years of hand tool woodworking. It was super cool to watch although I must admit that my "past Me" was a little jealous.
Although it seems Chris Schwarz is stepping down from the role of "teacher of the masses" to focus on publishing and family, and such, I really wish every beginner could take a 5 day baptism into the craft.
Well… kind'a.
I'd mostly hope that when they got home they had a physical woodworking community in their town to help them keep going.
I guess both wishes won't be coming true very often.
Sadly, I suspect that many of these 17 will not find anyone, and I don't think that is any more negative than it is just simple reality based on my own experience. You see I live in a Canadian city of over a million people, and although I know there are literally thousands of woodworkers in my city alone, they are pretty hard to find. Actually that's not totally true. I've had pretty good luck finding very nice elderly woodworkers that unfortunately seem pretty stuck in their own little groups. Ya, that's right, I joined the local woodworking club. I'm in my early 40's, and most meetings, I'm the youngest one there. They really are very nice and very welcoming, but in the past year, I've not seen anything that would be of value to a beginner or really, anyone that just wanted to learn something. I'm not ready to completely give up on this aged clan, but I'm not sure they are aware they already have one foot in the grave, and are offering nothing for the younger generations. Really, I can watch the woodworking club die as I pout in the corner, or I can try to be a positive influence until change comes around, or they ask me to leave.
It's a choice I get to make.
At the same time, there are baby woodworkers out there that are having trouble with their tools, and having trouble finding anyone to help them in their own town, and have gotten nowhere with their local woodworking club.
And so I have a another choice to make.
Do I sit behind my computer and pout, or do I choose to make myself available.
And what should you do. Should you hide and tell yourself that you have nothing to offer, or do you offer what little you do know in hopes that someone else has a little to share with you. Not on a forum, or on twitter. In person, in a wood shop or over coffee, or a beer.
We all get to choose…
So woodworkers of Calgary.
Especially beginners!
If you are out there? and you are reading this, and you want to help keep woodworking alive in our city, let's talk.
I have no idea what it would look like, but it's worth a try.
The rest of you,(my great Fairwoodworking Army!!!) I challenge you to do the same in some way. Sure classes are great, but local woodworking friends that are willing to share are better.