Well the year is almost over and I find that of the three topics I promised to write about, I have written about exactly none of them.
Shame, shame on this bad little blogger, so with a micky of rum in hand, here we go…..
About a year and a half ago I wrote about some of the things I've learned about taking pictures in the shop. It has been one of my more well received posts, so I thought I should add a little more, especially since I really botched one of the tips. For years I'd just used my work light for all my lighting needs, because I thought that having proper lights would be too much of a hassle for the benefit they would allow.
And that broke a very important rule in my shop.
Only have opinions about things you have tested and proven to be true or false.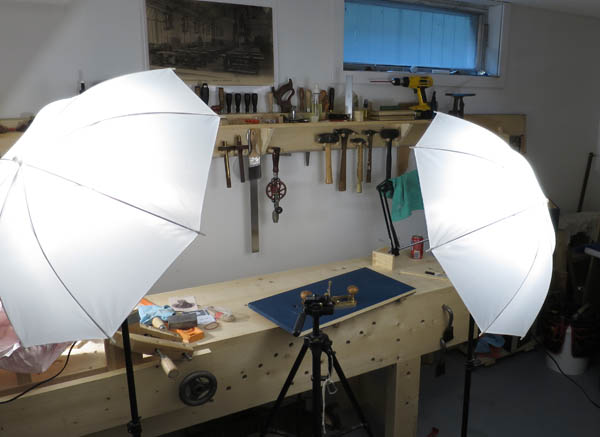 After acknowledging my sin, I ordered the cheapo set recommended by Chris Schwarz, and have been using it for about a year. For starters, it is as horribly cheap as it ever could be. However they do work, and so let's go ahead and see what I think about them in my shop.
But before we do, if you only have the money for lighting or a tripod, screw the lighting. FOR HEAVENS SAKE GET THE TRIPOD ALREADY!!!
Anyways, what really discouraged me from getting a lighting set was how much trouble just having a tripod in the shop was. They have a very wide base and in a small shop their legs are always just one inattentive step away from tripping over. Then there is storage. Opening and closing, finding a spot to keep it where it wont fall and break. It sucks, it's a pain.
It's worth it.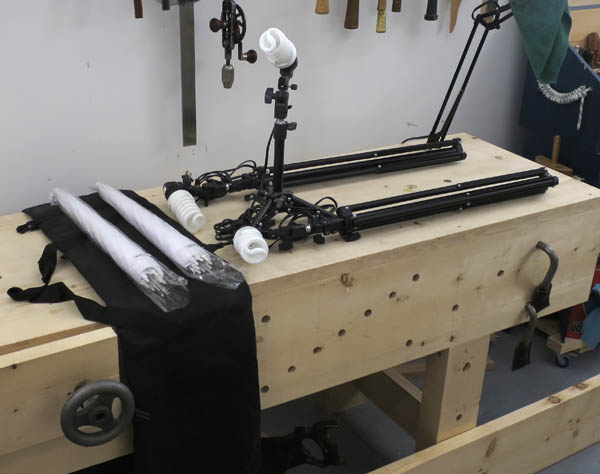 This set comes with two floor stands and one smaller stand, three fluorescent lights, two umbrellas, and an utterly useless case. Forget about the case, I did, and had a problem finding it so it could be in the picture. Again, forget about the bag, it is the least of the issues, but don't get me wrong, as bad as this set is, I don't hate it, as bad as it is, let's move on.
The build quality of the… well… everything is as horrible as it can be for the price, but with a little care I've managed to get by.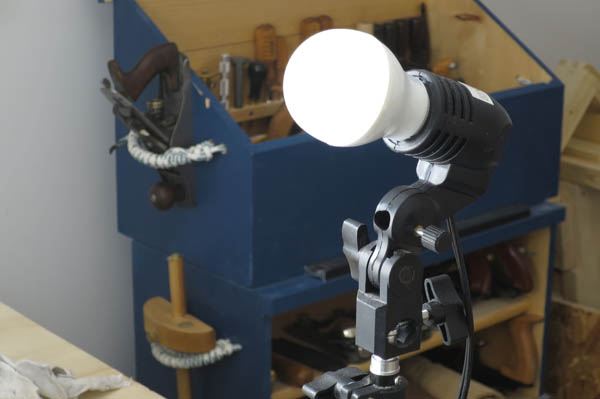 What you see before you is a bunch of cheap plastic that is just daring you to over tighten a knob until it prematurely snaps. Handle with care.
See that one smaller round knob?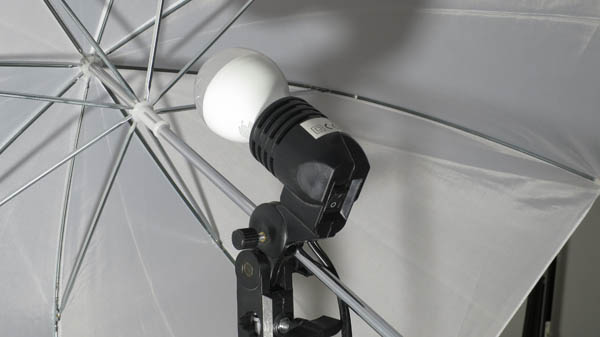 It holds the umbrella, and by hold, I mean leverages against the umbrella rod in hopes that it can split the head apart. DO NOT TIGHTEN THIS KNOB. Get it close, and then notice how the power cord hangs against the rod? That will hold the umbrella in place in most cases. If not, some tape or something. That will work better than the mini knob of destruction.
The stands themselves are also very light duty, but with care not to over torque them open too quickly, they should be ok.
I've read some reviews that complain that this set does not have the lighting capacity they had hoped, and it's true with three 45w bulbs, it's a little dim, but since we are all good little boys and girls who use our tripods, we don't have to worry about that. The trick is to get a good balance of light vs shadows for the shot you are after. You can compensate with the camera if you have a tripod.
I did however change the bulbs to get a little more light mostly for video. In my original post I said that I used an old-fashioned 100w bulb in my work light, but the problem with incandescent bulbs is that they get really hot, and that is not ideal when you are setting up light stands, for a quick picture and then tearing down again. Also that amount of heat could melt the cheapo plastic.
Stupid cheap plastic.
In the end I chose to switch to LED bulbs, but when considering this change, it's a really good idea to consider what color of light is in your shop.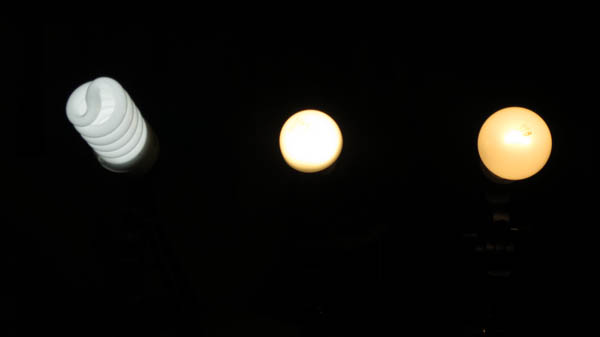 On the left is the fluorescent bulb from the lighting set. On the right is my old 100w incandescent. In the middle the LED light that I now have for all my shop lighting.
The color of your lighting is very important for photography. Your camera can adjust for the color of your lighting with the setting called "White Balance", but only for one color. Many bulbs now will have a color rating in units of the Kelvin scale. A high number will be whiter (colder) a lower number more yellow (warmer). The fluorescent bulb here is rated for 5500k, the LED 3000k, and the incandescent is probably 3200-3500k(?).
Anyways, I prefer a warmer light to work in so I switched ALL my lights to the same 3000k bulbs. Unfortunately, I've not been able to find them in more than the equivalent of a 60w.
The bottom line is you will get better richer color out of your pictures if all your lighting is of the same color. Keep in mind that there is a Kelvin rating on sunlight as well. Unfortunately it varies through the day, and also in different weather. I prefer photography in my shop after dark since I never get enough sunlight to not need electric lights.
With our choice of bulbs made, what's the deal with umbrellas?
Well the problem with using my work light is that it has a very direct light. It's great for working but it causes very harsh shadows, and very concentrated bright points. The lighting stands with the umbrellas diffuse the light. It widens the angle of the light source, and softens both the shadows, and also the lighter, more reflective areas.
Here's a great example.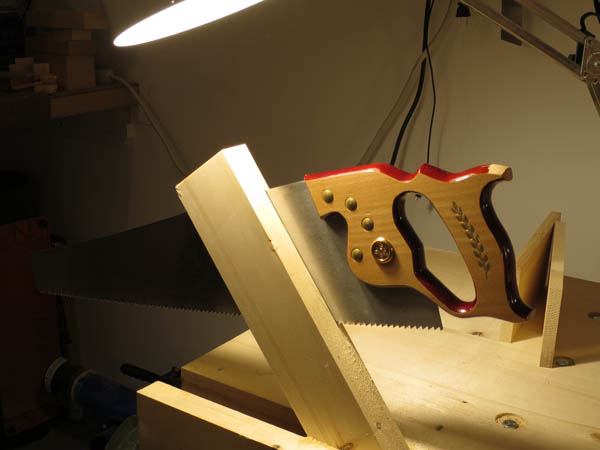 Look how over exposed the top of that piece of wood is. At the same time the toe of the saw is almost lost in the shadow of the dark room. There is nothing pleasant about this picture. The over exposed areas and glare is distracting. Shame on me for ever taking this picture! Even worse, I posted it on Instagram. Yuck!
Speaking of Instagram,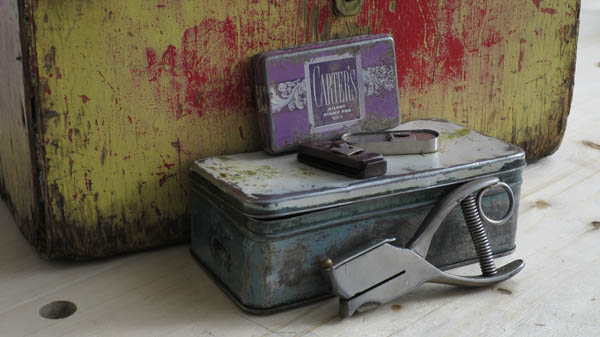 Here is another picture I posted there a while ago. It's not perfect, I'm still learning as I go, but it's just so much more comfortable.
Here's another one.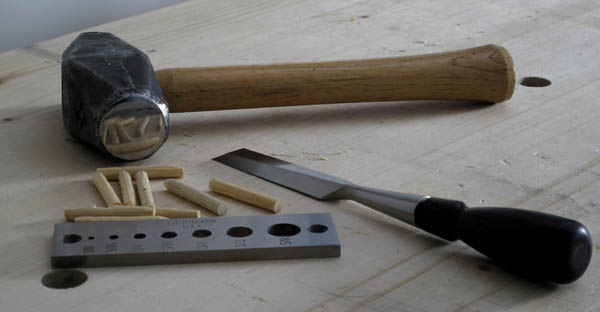 Often times I'll even just use one of the light stands with the umbrella set at a fairly low angle. It throws a long soft shadow that I really like.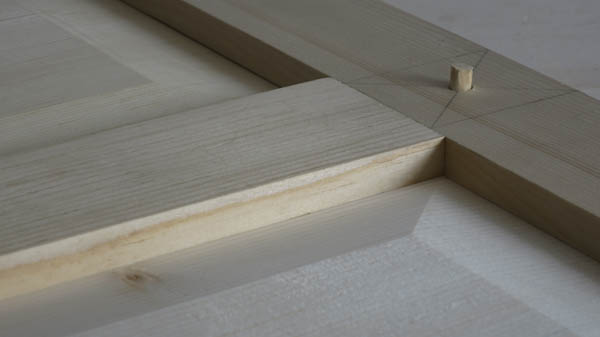 If you use your shadows correctly, they can really help define the details in a picture.
I'm getting distracted with my awesomeness…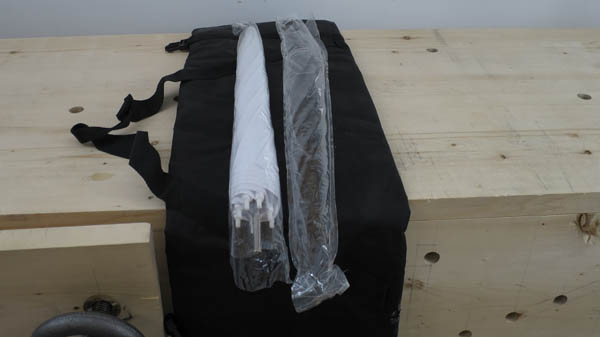 Each of the two umbrellas were supplied with these clear plastic sleeves. DON'T THROW THEM OUT!!! I'm very careful to always store them in the sleeves to keep them clean. Don't touch the white of the umbrellas, and don't leave them out of the sleeves any longer than you have to. Once they are dirty, they won't spread a nice even light anymore, so be a good lad and practice safe umbrella-ing.
So what am I really saying?
Just like tripods. Having to set up lighting, step carefully around it take the shot, tear it down, and safely stow it away sucks unbearably, it is necessary it if you want your photography to improve. It will take practice to utilize properly, and quite possibly, it will suck the will to live out of your very soul, but in the end…
It is worth it.